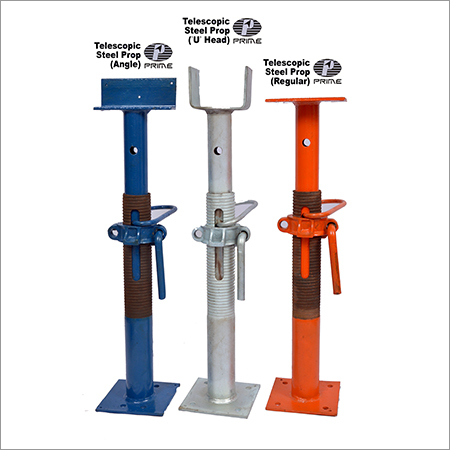 Telescopic Steel Prop
Product Description
Our Telescopic Steel Props are manufactured with premium anti abrasive goods like steel, iron and related others. This range of scaffolding props comes with U-Heads, Regular Heads and Angle Heads which we offer to the customers. Moreover, these cater as a product attachment in various thickness and length as to meet the requirements of the construction sector. Further, our prop is widely acclaimed due to its light weight, fine finishing and superior mechanical power. Other than that, they also work as an ideal supporting device for the mentioned below formworks:
Beams
Columns
Slabs
Walls etc.

Salient Features Of The Product:
Easy to use and have long functional span
Excellent design and well-built structure
Precised dimensions and light in weight
Free from defects and corrosion repellent

Technical Specification :

Size

Closed (in Metres)

Extended (in Metres.)

Self Weight (In Kg.)

Heavy Duty

Light Duty

EPSP-11

1.40

2.50

13.25

9.20

EPSP-13

1.90

3.10

15.40

10.65

EPSP-15

1.90

3.45

16.85

11.65

EPSP-17

2.50

4.65

21.38

14.75

EPSP-19

3.00

5.40

24.40

16.80
Admissible duty 15kN at any telescopic distance for heavy task prop.
Permissible load 7.5kN at whatever telescopic extent for light job prop.
Note : We can also provide our range in varied sizes and thickness as per the requirements indicated in the inquiry section.

Specification :

Exterior part is developed of 60.30 mm OD circular pipe for Heavy duty Props and Light Duty with 3.00mm and 2.0mm of width respectively.
Interior member is fabricated with 48.3mm OD round pipe of 3.2/3.00mm and 1.80/2.00mm for H.D. and L.D.
Lead and Base plates are created with high quality M.S. Plate of 120x120x6mm.
Weighty job tractable Cast-Iron Nut serves the alteration for leveling.
G' Pin is manufactured with 'Strong-Tensile' steel planned for rough modification made of round bar of 10/12 mm dia.