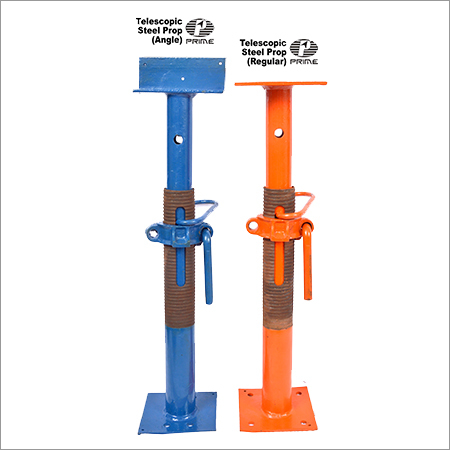 Scaffolding Prop
Product Description
High-quality and durable Scaffolding Adjustable Props, manufactured, supplied and exported by Prime Steeltech (I) Pvt. Ltd are useful in providing support to the formwork shuttering. Basically, these are the reusable supports, which provide effortless dismantling as well as speedy erection. With these props, there will be no need of any tool. Scaffolding Adjustable Props are widely appreciated for their excellent quality, optimum resistance to rust & scrape, optimum load bearing strength, exceptional durability and dimensional accuracy. Their light-weight make allows for simple usages and maintenance. These are the ideal and extremely economic fittings that deliver support to all types of slabs, beams, formwork, columns and wall. Scaffolding adjustable props enjoy wide applications in repair works as well as general building construction. Utilization of these will add efficiency to different construction works. It can endure the vertical loads, by serving as an optimum quality wall brace.

Key Points:

Made to reduce the time as well as exertion of labors.
Saves the time that gets consumed in nailing, cutting of timber to length, and wedging.
Functional as the best-quality compression members.
Suffice as the temporary supports and ensures functionality in different building as well as civil engineering chores.
Simple & cost effective techniques to shore as well as re-shore.
Technical Specification :

Size

Closed (in Metres)

Extended (in Metres.)

Self Weight (In Kg.)

Heavy Duty

Light Duty

EPSP-11

1.40

2.50

13.25

9.20

EPSP-13

1.90

3.10

15.40

10.65

EPSP-15

1.90

3.45

16.85

11.65

EPSP-17

2.50

4.65

21.38

14.75

EPSP-19

3.00

5.40

24.40

16.80
Permissible load 15kN at any telescopic length for heavy duty prop.
Permissible load 7.5kN at any telescopic length for light duty prop.
Note : Any other 'Sizes and 'Thickness' can be manufactured in accordance to the specifications mentioned in the inquiry.
Specification :
Outer member made of 60.30 mm OD round pipe for Heavy Duty Props 3.00mm thickness and for Light Duty 2.0mm
Inner member made of 48.3mm OD round pipe for H.D. 3.2/3.00mm and L.D. 1.80/2.00mm.
Top and Bottom plates are made of 120x120x6mm M.S. Plate.
Heavy duty Malleable Cast-Iron Nut gives the adjustment for leveling.
G' Pin made of ' High-Tensile' steel provided for coarse adjustment made of 10/12 mm dia round bar.